General Manager
Mathew C. Mathew
mathewm@herculesuae.com
Tel : 050 6466315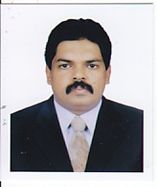 As Hercules continues its triumphant march into the 24th year, greetings from the GM's desk to each one of you
In1986, Hercules began its operations as a small unit. Today, it has diversified into various fields and caters to a diverse range of customers in Middle East, India, Africa and CIS countries. I attribute the tremendous growth of our business to two factors:
a) The inspiring vision and dogged determination of our Managing Director, Mr. Abdul Latheef and
b) The tireless teamwork of our dedicated staffs
Backed by the sound infrastructure developed over years, and a gallant workforce trained in their respective fields,we are consistently committed to excellence through brand development and ongoing professional enrichment.
We are very much a learning organization, committed to learning new things, new businesses etc. As Warren Buffetsays, "If past history was all there was to the game, the richest people would be librarians". How true! We at Hercules actively participate in the learning process, charting our own course and staying steadfastly on course.
Today, as we stand poised to spread our wings further and to bring in more key areas under our purview, we reiterate our renewed commitment to quality and high standards of service.
I pledge my very best and most sincere efforts to this organization to see it emerge as a leading contenders in a myriad of fields.